Welcome to Tom Selby's World War II scrapbook.
Tom Selby enlisted in the U.S. Navy on August 3, 1942 at the age of 18. He served his country, and helped preserve the liberty we so blindly accept as a part of our daily lives. He departed his time of military service, in September, 1945, a true veteran.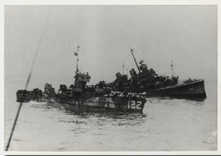 His most notable tour of duty was onboard the USS William D. Porter (DD-579). The amazing story of this ship and how it was sunk by a Japaneese Kamikaze plane near Okinawa never fails to astound me. You can read more about the ship in the Souvenirs section of this site.
This site contains a scrapbook and some other souvenirs that Tom Selby's daughter has collected. I am happy to present to you this material in honor of my grandfather, and as a birthday present to my mom.
This site was last updated on June 10, 2005.